Hotfix Search for NAV/BC
Hotfix Search
Transform the way you search for hotfixes to be fast and sharp. This cloud tool allows you to search through all hotfixes released by Microsoft across all Dynamics NAV and Business Central (BC) on-prem, and by country versions - in just seconds.
Azure hosted tool for Dynamics NAV and Business Central professionals
Skip hours googling errors about NAV or BC, and researching for relevant hotfixes provided by Microsoft. The Hotfix Search will transform the way you will find such information for good. The online tool helps you search and find the information, you are looking for fast and easily.
This Hotfix Search allows you to search for all hotfixes released by Microsoft with the following unique filters:
Hotfix description or knowledge ID
Product version
Country localization
Cumulative Update (CU) level
The tool will within seconds provide you with a very comprehensive overview of all available hotfixes with version numbers, country version, knowledge base ID, CU number, release date, Microsoft KB ID, number of objects in a hotfix, URL to official release and more.
How to get started
Go to www.NAVToolbox.com
Select "Start free trial"
Create your account
Confirm your email
You are then ready to make you first search
How it can benefit and optimize your workflow
Cloud solution – no installation required and always fully up to date
Fast - save up to 90% of your time, released for more interesting tasks
Accurate – ensure you get all the relevant CU information
Satisfactory – provide fast and professional support and service for your clients
Cost - FREE of charge
Created for – supporters, consultants, developers and advanced end-users
Supported product editions:
NAV 2013-2018
BC 13-14
Supported country versions
All released by Microsoft.
Sign up for free here:
https://www.navtoolbox.com/hotfix-search/
Video: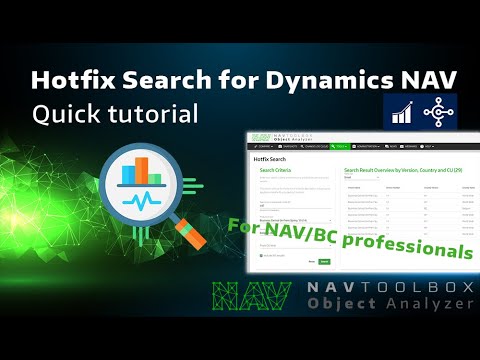 https://www.youtube.com/watch?v=mT5OPSakuHM
https://mibuso.com/downloads/hotfix-search-for-nav-bc
Discuss this download here.